Wednesday, May 4 from 4:15 – 5:30 pm in booth 952.
Power up a wireless sensor inside a brain! We have an extremely nervous patient who needs to calm down. Harvest as much wireless energy as possible to release a calming medicine to slow down neural activity as measured by a blinking LED!
This has traditionally been a student only competition but this year we have created two new categories to encourage additional participation.
Competition Categories:
Student Teams – limited to current students.
Open Teams – everyone is welcome to compete in this category including post-docs and professors.
Free For All – everyone is welcome, any materials are allowed. Great opportunity for vendors and labs to advertise their projects!  The winner will be presented by the general chairs at the Thursday plenary session.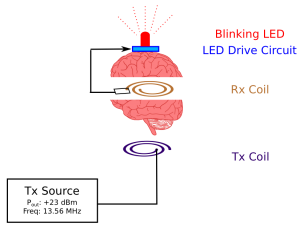 Teams of any size may submit a design for a custom 13.56 MHz coil and rectifier for the IEEE RFID 2016 conference.  A $500 cash prize goes to the student team with the best receiving coil according to the design objectives outlined below.  An additional $500 cash prize will be awarded to the Open Team with the best receiving coil.  There will be no prize money for teams participating in the free for all category but the winner will be presented by the general chairs at the Thursday plenary session.
Materials
Teams are limited to the following items when constructing their coils and rectifiers:
Passive RF components (any size and value)
Copper tape
Solder or cold solder pen
Cardboard (i.e. corrugated fiberboard) or paper (NO printed circuit boards)
Tape, glue, or hot glue
Diodes: 1N5711
Teams can prepare designs ahead of time using the approved list of materials. We will have materials on site and teams can build and test their designs at the conference.
Free For All Materials – ANYTHING GOES! (with the exception of dangerous or hazardous materials)
Expert Guidance
Both Dr. Brian Degnan and Dr. Murat Eskiyeri have volunteered to serve as mentors for the competition participants during their free times at the conference!  On the first day of the conference, Tuesday May 3rd, Dr. Degnan will be presenting a tutorial titled "Reverse Engineering a Passive UHF RFID Tag" and Dr. Eskiyeri will be presenting a tutorial titled "Design and Measurement of CMOS RF-DC Energy Harvesting Cricuits".  Additional details about these tutorials can be found in the Tutorials/Workshops tab on the IEEE RFID website.
Competition Overview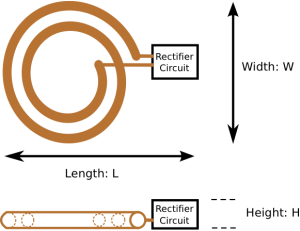 The objective of the competition is to receive the maximum amount of power at the Rx Coil while maintaining a physically small design.  Any coil geometry and rectifier topology may be used.  The rectifier must have DC output leads.  The DC output will be connected to a 500 Ω load.  The voltage across the 500 Ω load will used by a voltage controlled oscillator (VCO) to modifying the blinking frequency of an LED.  A higher DC input voltage will result in a slower LED blinking frequency.
Design Competition Figure of Merit: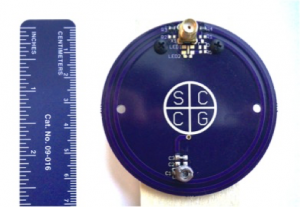 Transmitter characteristics:
Tx power: +23 dBm

Tx dimensions: Circular coil with a maximum diameter of 6 cm

Tx to Rx separation distance: 6 cm
For further information please contact Eleftherios Kampianakis or Josh Ensworth.